Date de dernière mise à jour : le 30 novembre 2010 à 16 h 10 min
Voici les Winners World Press Photo 1955-2006 de la seconde partie du XXe siècle. Des images qui nous ont tous marquées, des images cultes. Voici dans l'ordre chronologique des évênements les meilleures photos.
Mogens von Haven, Denmark.
Volk Mølle racecourse, Randers, Denmark, 28 August 1955.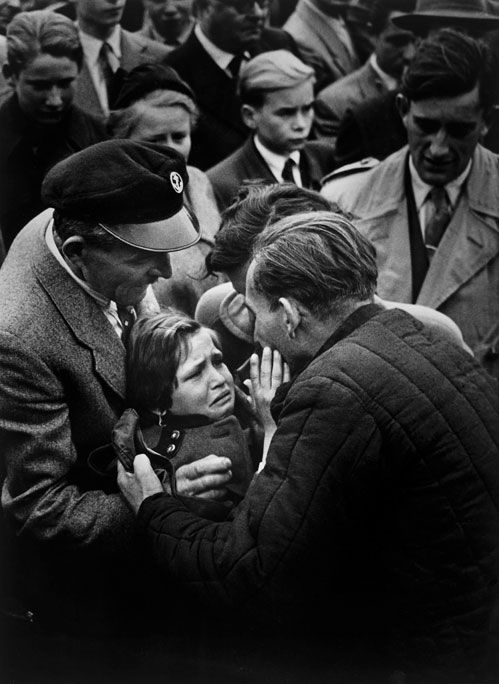 Helmuth Pirath, Germany, Keystone Press.
West Germany, 1956
German World War II prisoner released by the Soviet Union is reunited with his daughter.

Douglas Martin/AP, .
4 September 1957
Dorothy Counts, une des premières noires à entrer dans le lycée Harry Harding High School en Caroline du Nord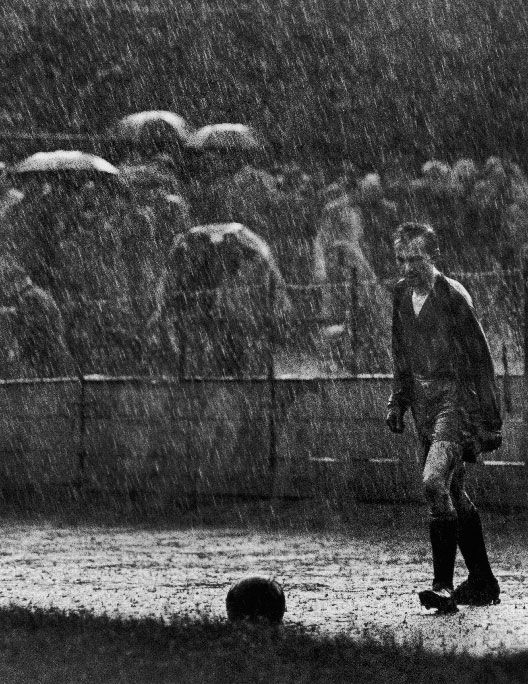 Stanislav Tereba, Czechoslovakia, Vecernik Praha.Prague, Czechoslovakia, September 1958.
National soccer championship between Prague and Bratislava.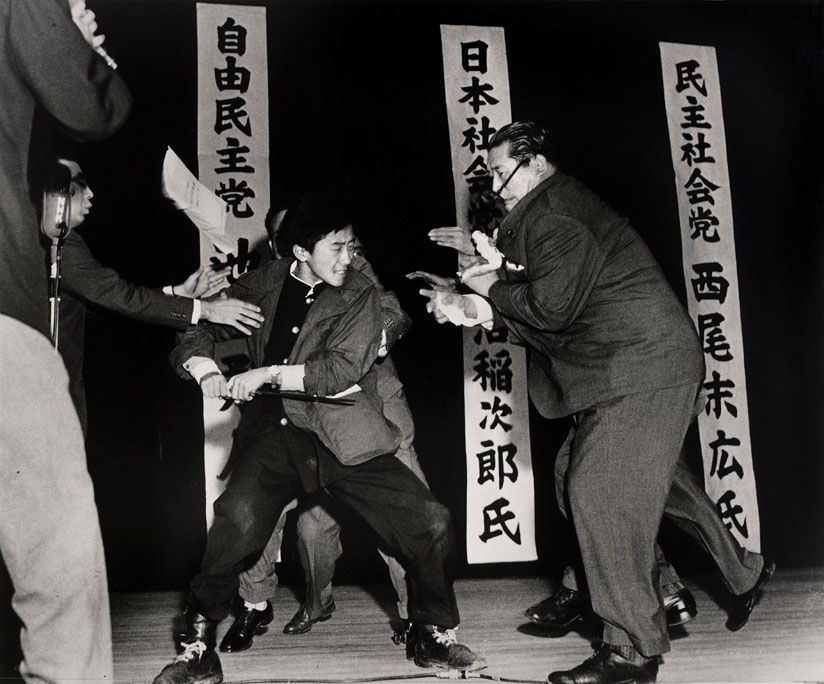 Yasushi Nagao, Japan, Mainichi Shimbun.
Hibiya Hall, Tokyo, Japan, 12 October 1960. Right-wing student assassinates Socialist Party Chairman Inejiro Asanuma during speech.
Héctor Rondón Lovera, Venezuela, Diario La República.
Puerto Cabello naval base, Venezuela,
4 June 1962. A soldier who has been mortally wounded by a sniper clings onto navy chaplain Luis Padillo.
Malcolm W. Browne, USA, The Associated Press.
Saigon, South Vietnam, 11 June 1963. Buddhist monk Thich Quang Duc sets himself ablaze in protest against alleged religious persecution by the South Vietnamese government.

Donald McCullin, UK, for The Observer, Quick, Life.
haziveram, Cyprus, April 1964. A Turkish woman mourns her dead husband, victim of the Greek-Turkish civil war.

Kyoichi Sawada, Japan, United Press International.
Loc Thuong, Binh Dinh, South Vietnam, September 1965. Mother and children wade across river to escape US bombing.
Kyoichi Sawada, Japan, United Press International.
an Binh, South Vietnam, 24 February 1966.
American troops drag the body of a Viet Cong soldier to be buried.
Co Rentmeester, the Netherlands, Life.
South Vietnam, May 1967.
The commander of an M48 tankgunner of the US 7th Cavalry Regiment in Vietnam's « Iron Triangle ».

Eddie Adams, USA, The Associated Press.
Saigon, South Vietnam, 1 February 1968. South Vietnam national police chief Nguyen Ngoc Loan executes a suspected Viet Cong member.

Hanns-Jörg Anders, Germany, Stern.
Londonderry, Northern Ireland, May 1969.
A young Catholic during clash with British troops.

Wolfgang Peter Geller, Germany.
Saarbrücken, West Germany, 29 December 1971. Shoot-out between police and bank-robbers.

Ut Cong Huynh, Vietnam, The Associated Press.Trangbang, South Vietnam, 8 June 1972.
Phan Thi Kim Phuc (center) flees from the scene where South Vietnamese planes have mistakenly dropped napalm.

Santiago, Chile, 11 September 1973.
Democratically elected President Salvador Allende moments away from death during military coup at Moneda presidential palace.
Ovie Carter/Chicago Tribune
Kao, Niger, July 1974.
Drought victim.
Stanley Forman/Boston Herald,
Boston, USA, 22 July 1975.
A woman and a girl are hurled down as the fire escape of their apartment building collapses.

Françoise Demulder, France, Gamma.
Beirut, Lebanon, January 1976. Palestinian refugees in the district La Quarantaine.

Lesley Hammond/The Argus
Modderdam, Western Cape, South Africa, August 1977.
The police tear-gas inhabitants of Modderdam squatter camp outside Cape Town protesting against the demolition of their homes.
Sadayuki Mikami/AP.
Tokyo, Japan, 26 March 1978.
Protest against the construction of Narita Airport.
David Burnett/Contact Press Images, .
Sa Keo refugee camp, Thailand, November 1979.
A Cambodian woman cradles her child while waiting for food to be distributed.

Mike Wells
Karamoja district, Uganda, April 1980. Starving boy and a missionary.

Manuel Perez Barriopedro
Madrid, Spain, 23 February 1981.
Lt. Col. Antonio Tejero Molina and members of the Guardia Civil and the military police hold the Spanish parliament hostage.

Robin Moyer/Black Star Time.
Beirut, Lebanon, 18 September 1982. Aftermath of massacre of Palestinians by Christian Phalangists in the Sabra and Shatila refugee camps.

Mustafa Bozdemir/Hurriyet Gazetesi
Koyunoren, Eastern Turkey, 30 October 1983. Kezban Özer finds her five children buried alive after a devastating earthquake.
Pablo Bartholomew/Gamma
Bhopal, India, December 1984.
Child killed by the poisonous gas leak in the Union Carbide chemical plant disaster.

Frank Fournier/Contact Press Images
Armero, Colombia, 16 November 1985. Twelve-year-old Omayra Sanchez trapped
in the debris caused by the eruption of Nevado del Ruíz volcano. After sixty hours
she eventually lost consciousness and died.

Alon Reininger/Contact Press Images
San Francisco, USA, September 1986. Ken Meeks' skin is marked with lesions caused by Aids-related Kaposi's Sarcoma.

Anthony Suau/Black Star,Kuro, South Korea, 18 December 1987.
A mother pleads with the riot police after her son was arrested at a demonstration accusing the government of fraud in the presidential election.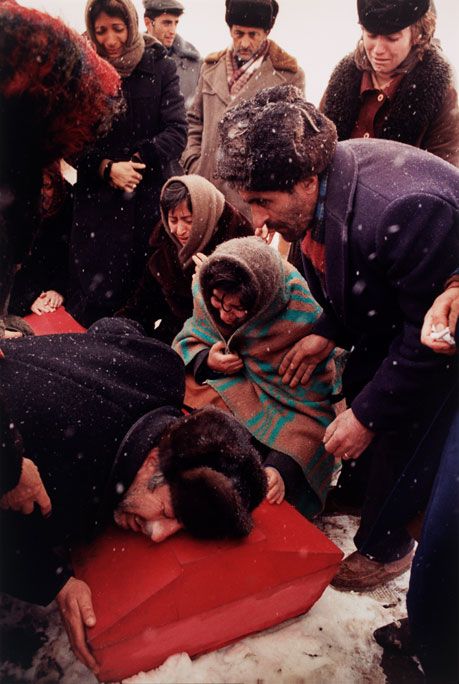 David Turnley/Black Star/Detroit Free Press
Leninakan, USSR, December 1988.
Boris Abgarzian grieves for his 17-year-old son, victim of the Armenian earthquake.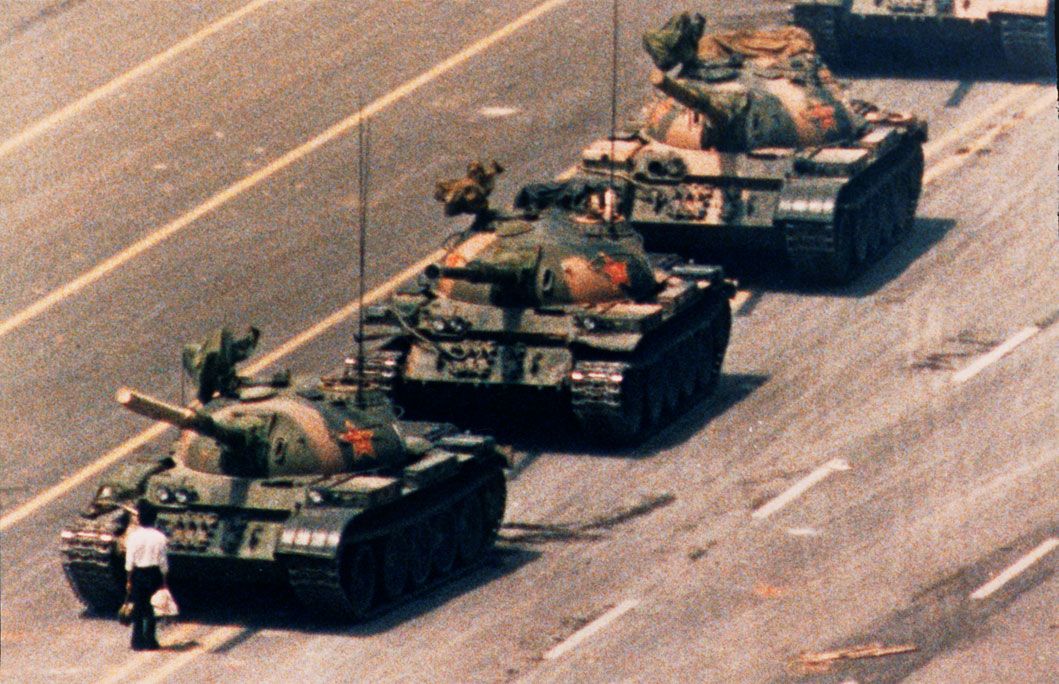 Charlie Cole/Newsweek.
Beijing, China, 4 June 1989.
Demonstrator confronts a line of People's Liberation Army tanks during Tiananmen Square demonstrations for democratic reform.

Georges Merillon/Gamma.
Nogovac, Kosovo, Yugoslavia, 28 January 1990. Mourners at the deathbed of Elshani Nashim (27), who was killed during a protest against Yugoslavia's decision to abolish the autonomy of Kosovo.

David Turnley/Black Star/Detroit Free Press.
Iraq, February 1991.
US Sergeant Ken Kozakiewicz mourns the death of fellow soldier Andy Alaniz, a victim of friendly fire on the final day of fighting in the Gulf War.

James Nachtwey/Magnum Photos/USA for Liberation.
Bardera, Somalia, November 1992. Mother lifts up the body of her child, a famine victim, to bring it to the grave.

Larry Towell/Magnum Photos.
Gaza City, Palestinian Territories, March 1993. Palestinian boys raise their toy guns in a defiant gesture.

James Nachtwey/Magnum Photo.
Rwanda, June 1994.
Hutu man mutilated by the Hutu 'Interahamwe' militia, who suspected him of sympathizing with the Tutsi rebels.

Lucian Perkins/The Washington Post, .
i 1995. Tchétchénie

Francesco Zizola/Agenzia Contrasto.
Kuito, Angola, 1996.
Landmine victims in Kuito, a town where many people were killed and traumatized during the civil war.

Hocine/AFP.
Algiers, Algeria, 23 September 1997.
A woman cries outside the Zmirli Hospital, where the dead and wounded had been taken after a massacre in Bentalha.

Dayna Smith/The Washington Post.
Izbica, Kosovo, Yugoslavia, 6 November 1998.
At a funeral, relatives and friends comfort the widow of a Kosovo Liberation Army fighter who had been shot dead the previous day while on patrol.
Claus Bjorn Larsen/Berlingske Tidende,.
Kukës, Albania, April 1999. Wounded Kosovo Albanian Man walks the streets of Kukës in Albania, one of the largest gathering points for ethnic Albanian refugees fleeing violence in Kosovo..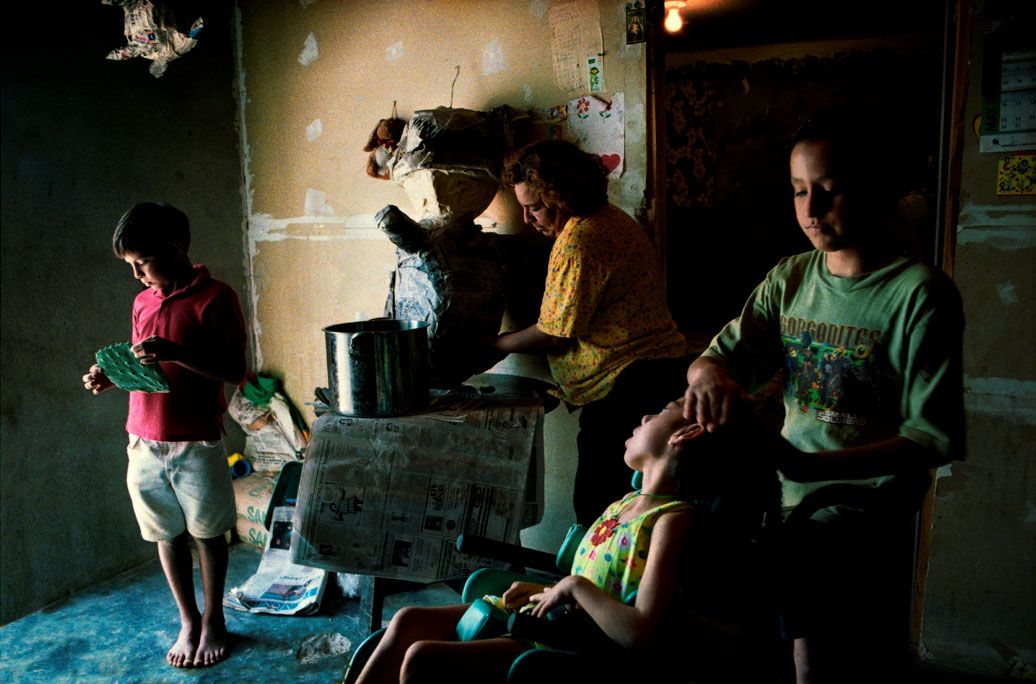 Lara Jo Regan/ Life, .
Texas, USA, 2000.
Uncounted Americans: The mother of a Mexican immigrant family makes piñatas to support herself and her children, in Texas.
Erik Refner/ Berlingske Tidende.
Jalozai refugee camp, Pakistan, juni 2001
The body of an Afghan refugee boy is prepared for burial

Eric Grigorian/Polaris Image.
Qazvin Province, Iran, 23 June 2002.
Surrounded by soldiers and villagers digging graves for victims of earthquake, a boy holds his dead father's trousers as he squats beside the spot where his father is to be buried.

Jean-Marc Bouju/AP.
An Najaf, Iraq, 31 March 2003. Iraqi man comforts his son at a holding center for prisoners of war.

Arko Datta/Reuters.
Woman mourns relative killed in tsunami, Cuddalore, India, Tamil Nadu, 28 December 2004
Finbarr O'Reilly/Reuters, .
Mother and child at emergency feeding center, Tahoua, Niger, 1 August
Spencer Platt/Getty Images.
Young Lebanese drive through devastated neighborhood of South Beirut, 15 August